If you love to combine sailing, running and the passion for the great outdoors – which better way to do it than in the swedish High Coast?
Docksta is homeland of the outdoor... and for runners there is no exception: each path is pure joy in discovering of the High Coast scenic beauty!
The routes, across hills & woods, are a perfect mix of nordic landscape and stunning sea views.
You will experience the thrill of running through natural sceneries into the heart of the UNESCO world heritage: through real nordic forests, red Nordingrå granite rocks covered by lichene and stunning hill summits. A run here is definitely an unique experience.
Did you know that there are at least 4 great trails you can run or hike to reach the top of Skuleberget? They will bring you up and downhill on the final segments of the Höga Kusten Trail race course.
Docksta is surrounded by beautiful walks: on the seafront, on the hills or in the countryside. Skuleberget, Vårdkallberget, Skovedsberget hills offer extraordinary views to hikers and trail runners.
You will love trail running in the High Coast
"Nature running" has been shown to combine the benefit of physical exercise with the restorative effects of being immersed in natural environments.
Running a natural trail is mindful: you constantly have to find your balance, control your steps, adapt your speed and your pace to the variety in terrain and elevation.
Take a deep breath in the woods, it will clear your mind. Pair your breathing with your pace: inhale counting 3, 4... 5 steps and exhale counting 3, 4... 5 steps. Deep breathing will fill the lungs as you run. Here in the north, the air is clean and rich in oxygen: it will be easier to oxygenate the muscles and to have more energy to tackle the hills.
You will likely encounter significantly more hills on the trails than you are used to on urban routes. This is a fun opportunity to add to your standard training. Running hills will make you a stronger runner and will improve your breathing efficiency.
On the physical side, this kind of runs will develop fitness, power, endurance and strengthen different muscles. Trail running will change you in a faster and happier runner.
On a trail, it doesn't matter how fast your're running. Enjoy the beautiful place you travel and the moment you're living: High Coast runners are lucky runners, and now can be your time, too.
Before to start your run or hike, give a boost at your training with 10/15' of basic, bodyweight exercises, like squat, push-ups, planks: they are the best to prepare your body for trail and hill running.
Talking with local trail runners - and being runners ourselves (we love it!) - we selected and tested the best paths around Docksta and Skuleberget.
We focus on where the locals train or race and particularly the spots where they have fun.
We highlighted more than 112 km of snaking trails to run, hike or walk starting from the seaside.
Each path is unique and varied and you can run all the trails starting from the piers of our marina: you should definitely give them a try!
Get ready to explore 10 of the best trail hotspot for beginners & expert runners in the Skule area.
Trail 12km - D+294m
Trailrun to the summit of Vårdkallberget hill
starting from Docksta Havet, Höga Kusten
Trail 7.4KM - D+224m
Trailrun in the forest to reach Skovedsberget, a lookout point over Dockstafjärden
starting from Docksta Havet, Höga Kusten
Trail 11.5km - D+420m
Höga Kusten Trail race segment: running North Skuleberget uphill (12.1%↗️) and Höga Kusten Stigen downhill
starting from Docksta Havet, Höga Kusten
This route takes you past the Naturum museum & High Coast Visitor's Center, goes up to the "Toppstugan" and down to the south side of the hill to the "outdoor village", FriluftsByn.
Trail 9.3Km - D+332m
HK Trail segments: vertical running on "Skulebacken" (ski tracks) uphill & downhill
starting from Docksta Havet, Höga Kusten
Trail 9.1Km
Vertical runs: extreme (31.5%↗️) uphill to Skuleberget from Naturum museum and downhill via "Skulebacken" ski slopes
starting from Docksta Havet, Höga Kusten
It's really a very steep climb but it's the shortest path to go up to the hill and the fastest to go down. Going up, you can take a short detour to reach the cave (the Kungsgrottan or Rövargrottan is famous for being visited by Linné in 1732).
TRAIL 10.3km - D+457m
Trailrunning up to the summit of Skuleberget (11.3%↗️) via Höga Kusten Stigen uphill & downhill
starting from Docksta Havet, Höga Kusten
Run 7.3KM - D+142M
Warm-up run around the lake Gällstasjön: clockwise round.
starting from Docksta Havet, Höga Kusten
The full loop around the lake on is perfect for an easy and hilly run. It offers Skuleberget south side views nearly the whole run and passes through the Church, the Linbana and Friluftsbyn.
Trail 13.6km
Around Vårdkallberget, seaside ring to run across Norrfjärden and Dockstafjärden.
starting from Docksta Havet, Höga Kusten
TRAILRun 12.2km - D+313m
>10k around Herrestaberget hill training from Docksta to... Docksta!
starting from Docksta Havet, Höga Kusten
Trail 6.6km
Challenging climb up to Herrestatjärnen and (fun!) fast descent run to return in the village.
starting from Docksta Havet, Höga Kusten
Trail 11.8km
Out-and-back trail takes you past the two lakes at Skuleberget's feets.
starting from Docksta Havet, Höga Kusten
Join the "High Coast Runner" club on Strava
#highcoastrunner

Sharing running experiences within the High Coast World Heritage in Sweden.
A SELECTION OF OUR FAVORITE VIDEOS: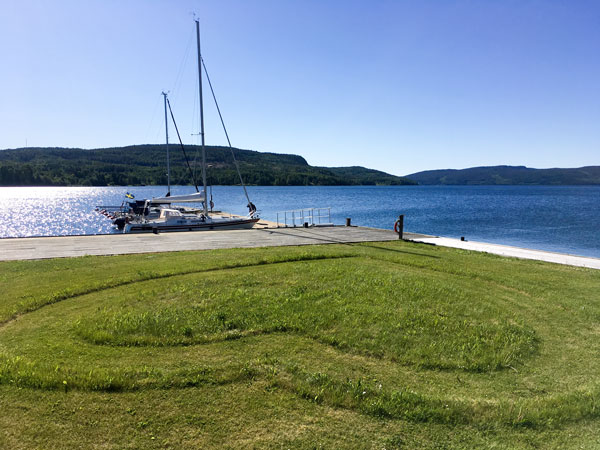 to experience the best trail runs aronud Docksta & Skuleberget